Josh Rossi's photo shoot turns kids with health needs into Superheroes.
Meet the Real Justice League Kids (Super Cool!)
Many of us want to be super heroes in real life. We want to be just like Superman and have the ability to be faster than a speeding bullet, have strength like Wonder Woman and super speed like The Flash. Some people though already have these superpowers.
Josh Rossi and his wife Roxana set out a few months ago to find the REAL Justice League and photograph them. The kids that his team and he chose have gone through hell and back and have real superhuman strength!
Josh and Roxana worked with the amazing costume designer Julie Whiteley to create the most epic photo shoot of kids with disease and disabilities. The idea was to showcase their inner strength in a way that would bring a smile to their faces as well as others struggling with similar issues. Roxana who produced the shoot spent weeks searching until she finally found the Justice League kids!
Let's meet the Justice League Kids.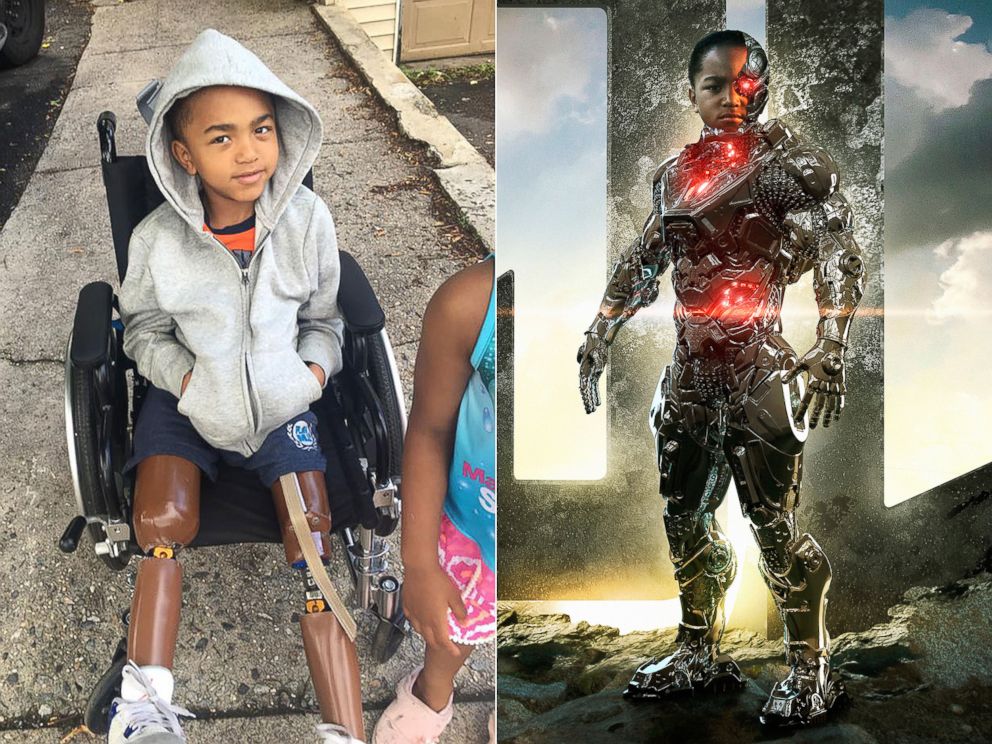 Kayden Kinckle as Cyborg, a double amputee with Omphalocele.
Meet the first Justice League member Kayden Kinckle. Kayden is a five yr old boy who has been a double amputee for most of his life. He was born with Omphalocele, which caused his internal organs to grow outside his navel. The doctors told his mom to abort him because he was going to be in bad shape, but instead, she decided to save her son even though it meant causing his legs to be amputated.
Kayden is learning how to walk with prosthetic legs. He told his mom he wanted to do it by himself and didn't want any help.
Kayden is like the superhero Cyborg. Like Kayden, Cyborg was a healthy boy until he had a horrible accident. And like Kayden's mom, Cyborg's father kept him alive by giving him robotic parts.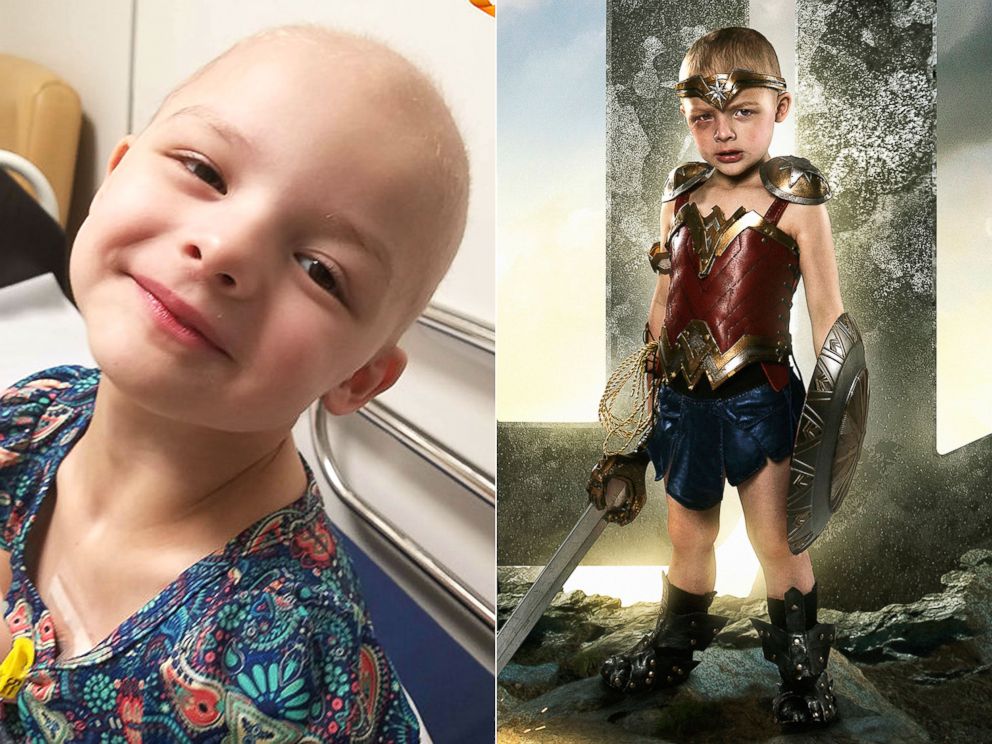 Sofie Loftus as Wonder Woman, diagnosed with cancer called Embryonal Rhabdomyosarcoma.
The second member is Sofie Loftus. She was diagnosed at 3 years old with a rare form of cancer called Embryonal Rhabdomyosarcoma. This little girl always wanted to have long, dark hair but when she got cancer, she lost all of it. In fact, just before her photo shoot, she just finished radiation therapy.
Even with the effects of her treatment, she was still able to do poses for the photo shoot with fierceness. Sofie can be compared to Wonder Woman who is a real fighter just like Sofie.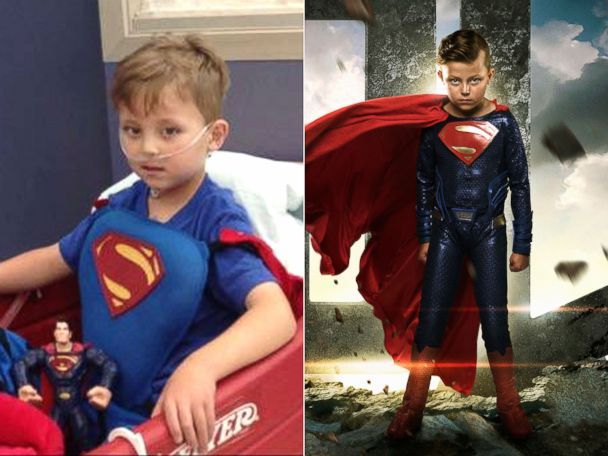 Superman, Teagan Pettit, 9 years old with half a heart also known as HLHS (Hypoplastic Left Heart Syndrome).
Teagan was born with only half a heart also known as HLHS (Hypoplastic Left Heart Syndrome). He had three open heart surgeries and several more to tune him up. He takes a lot of medication and wears oxygen at night and recently just got his g-tube (feeding tube) taken out. His family almost lost him two years ago; and had to take him to Philadelphia for a life-saving procedure, after waiting for over a year for a heart transplant.
After undergoing multiple surgeries, Teagan is a strong 9 yr old who LOVES Superman! He loves Superman possibly because they are so similar. He and Superman have one weak point, their heart. Superman grows weak when Kryptonite is near where as Teagan cannot regulate temperature because of his half heart. Where a healthy kid's body would warm up naturally such as in a cool pool on a hot day, Teagan would come out with blue lips and have to be warmed up with blankets or another heat source.
Teagan's mom said that every day is a blessing. Teagan's condition could fail any day because of his heart, but he keeps moving forward. Superman and Teagan both have hearts of steel!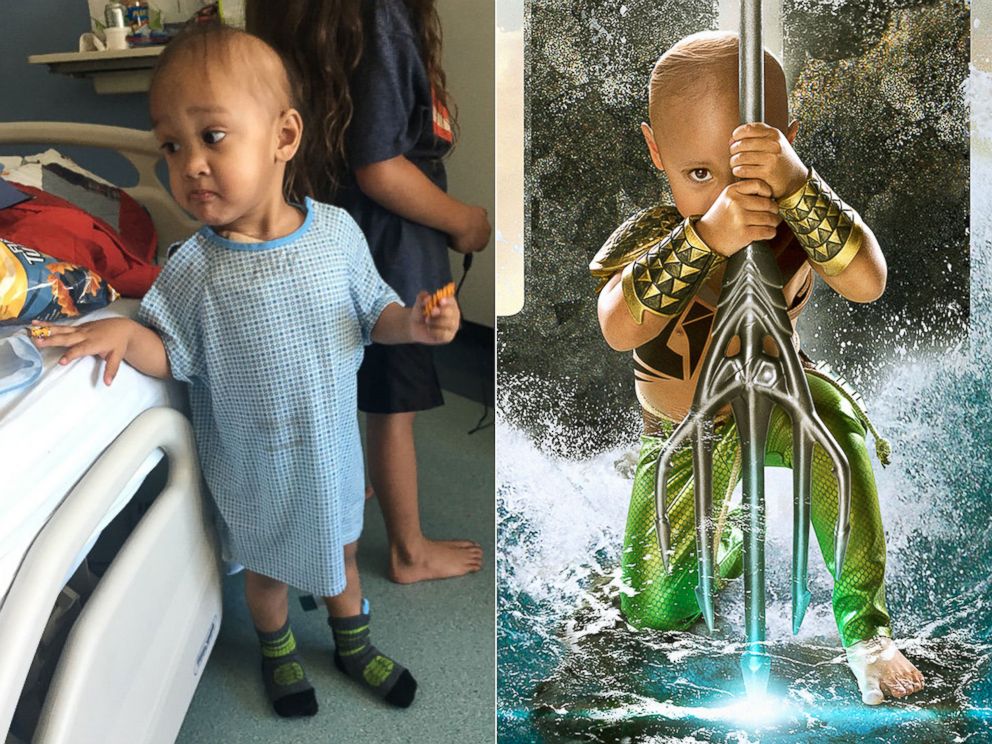 Mataese Manuma as Aquaman has a rare form of cancer called Acute Megakaryoblastic Leukemia.
The fourth member is little Mataese Manuma who is only 2 yrs old but has a rare form of cancer called Acute Megakaryoblastic Leukemia. This little man is a powerhouse! The day of the photo shoot he woke up with a fever after just barely finishing a round of chemo. His parents brought him to the hospital and after a few days was able to do the photo shoot.
Since Mataese is so young and also weak from treatments, his brother helped him out with some of the poses. In photoshop I had to do a little bit of stitching together such as a head here and a body there, but in the end, it turned out great. Mataese just like Aquaman from the movie are of Polynesian descent, and so I thought it would be a perfect fit to be the God of the water.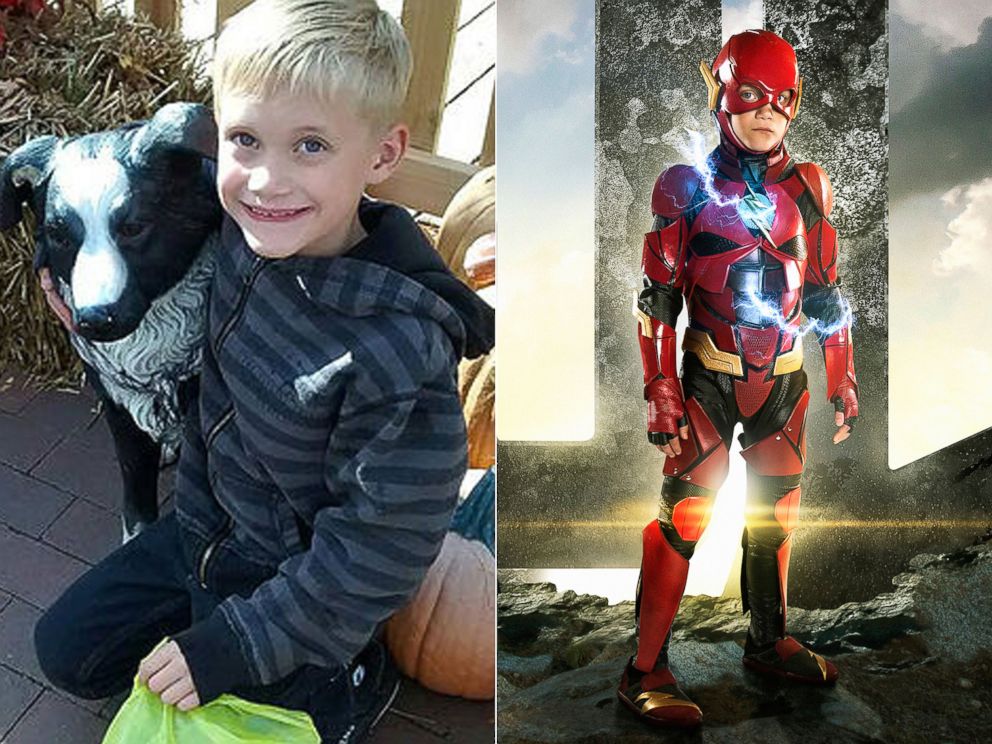 The Flash, Zaiden Stolrow has ADHD.
The fifth member is the 7 yr old Zaiden Stolrow.
When they first heard that Zaiden had severe ADHD, they didn't think he would fit the part until they heard his very sad story.
Zaiden loves to run and has endless energy which also got him in trouble at school. After getting excited for a school fundraising race Zaiden was benched in the principal's office for the day for bad behavior. Zaiden was excited to run but wasn't able to sit still in school to wait for his turn. His parents were called to come pick him up and when his dad opened the door he saw Zaiden in tears. All he wanted to do was run.
Slowly Zaiden's friends stopped inviting him to events and birthday parties and his mom said she the "light leave from his eyes." This poor boy who needs friends and connection suddenly becoming an outcast. After they heard his story they decided they were going to take Zaiden's weakness and turn it into a strength. They thought that turning Zaiden into The Flash would be perfect. Maybe now his friends will not only invite him to their parties but ask him to bring the suite and be the life of the party. Go Zaiden!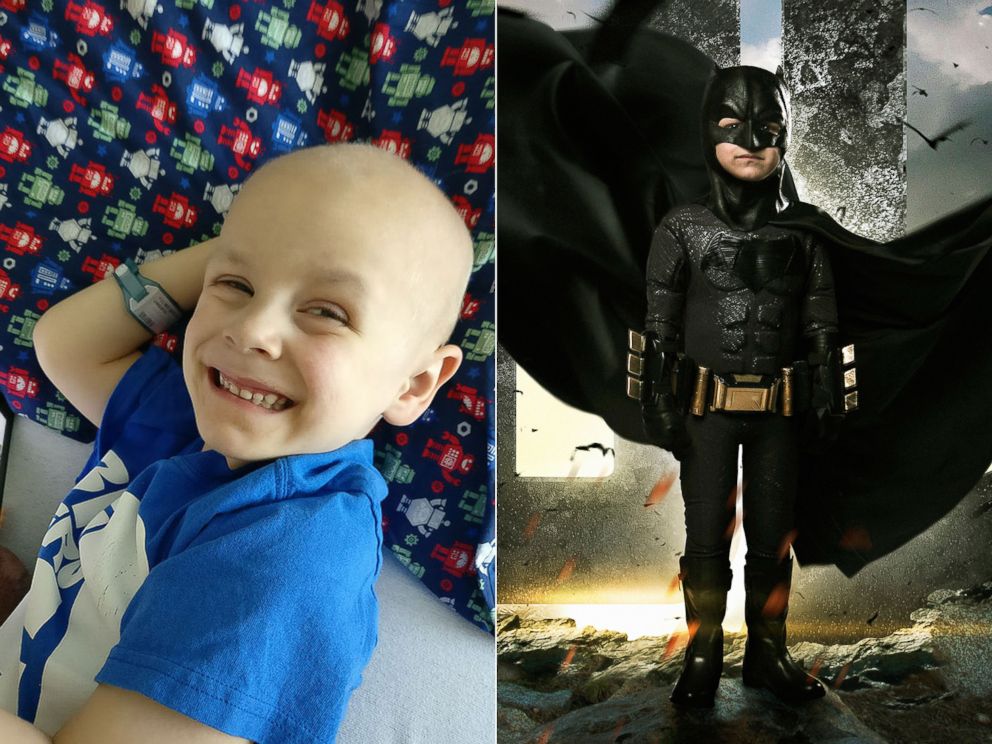 Simon Fullmer is Batman, 5 yrs old has nerve cancer called Neuroblastoma.
The 6th superhero is Simon Fullmer who is only 5 and diagnosed with a rare form of nerve cancer called Neuroblastoma. Simon is a quirky strong kid who "never complains" says his mom. He absolutely loves Batman and also Bruce Wayne "because he is rich."
Knowing the hardships, these kids went through; it made us believe that they were indeed a Superhero.! Thank you, Josh and Roxana, for sharing this beautiful and inspiring story. You'll never know how much joy and happiness you gave for these amazing and strong kids. Awesome job!
"Not the glittering weapon fights the fight, but rather the hero's heart."
- Anonymous