Baby Hears Mom For The First Time After Receiving Hearing Aid.
Hearing Impaired Baby Girl Gets Emotional After Hearing Her Mom Say "I Love You" For The First Time
Nothing beats a remarkable reaction on social media like a video of an adorable baby hearing her mom say "I love you" for the first time.
Christy Keane posted a video of her 2-month-old hearing impaired daughter Charlotte, getting her hearing aids, and within days, the adorable video clip hit over a million views on Facebook.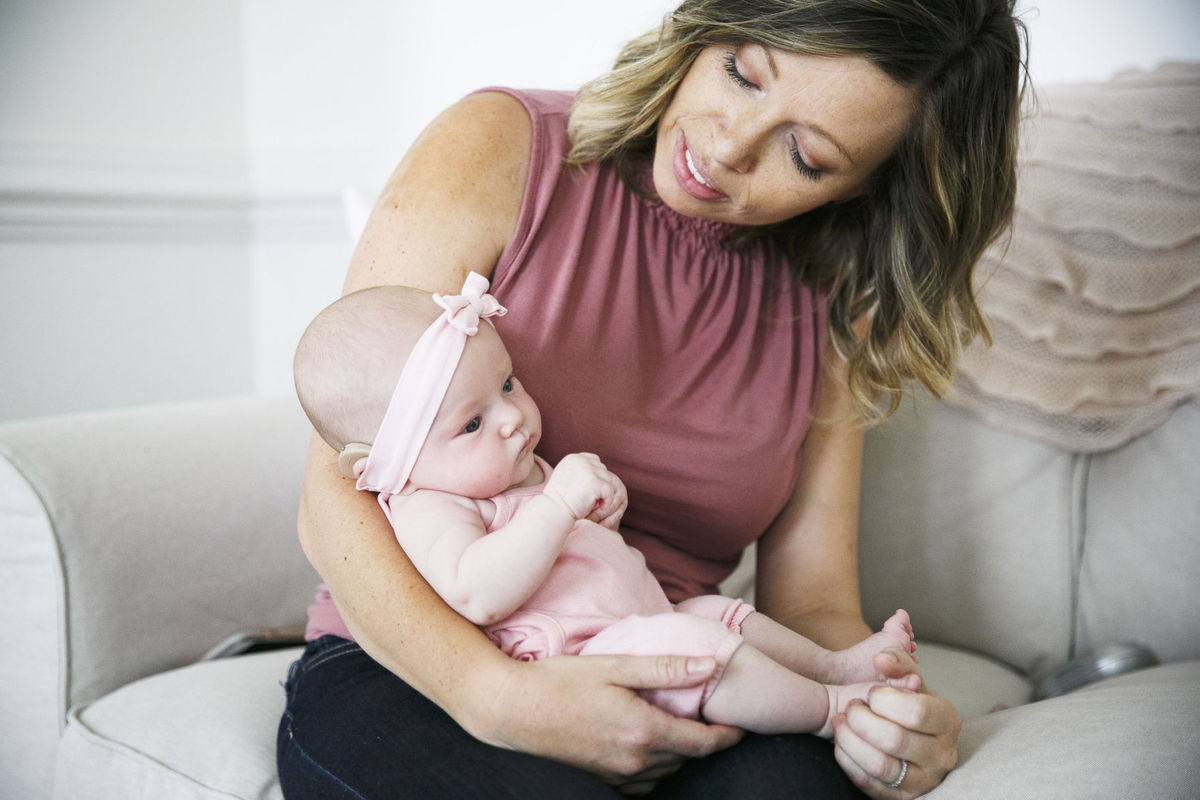 Mommy Christy and baby Charly.
Christy wasn't expecting a massive response to her post. The video has more than 155,000 likes, 10 million views, and close to 200,000 shares. Wow!
Initially, Christy didn't plan on posting it public, but her relatives asked her to share it with her family and friends. "I thought, "Oh, what's the harm it'll make if I put it on public," she says. "And then, I think I woke up the next day with a thousand shares, and after a week it had hit a million."
"CHARLY HEARS FOR THE FIRST TIME AND HEARS ME SAY I LOVE YOU FOR THE FIRST TIME!!!," Christy captioned the video. The little one seems to hold back happy tears and emotional as her mama.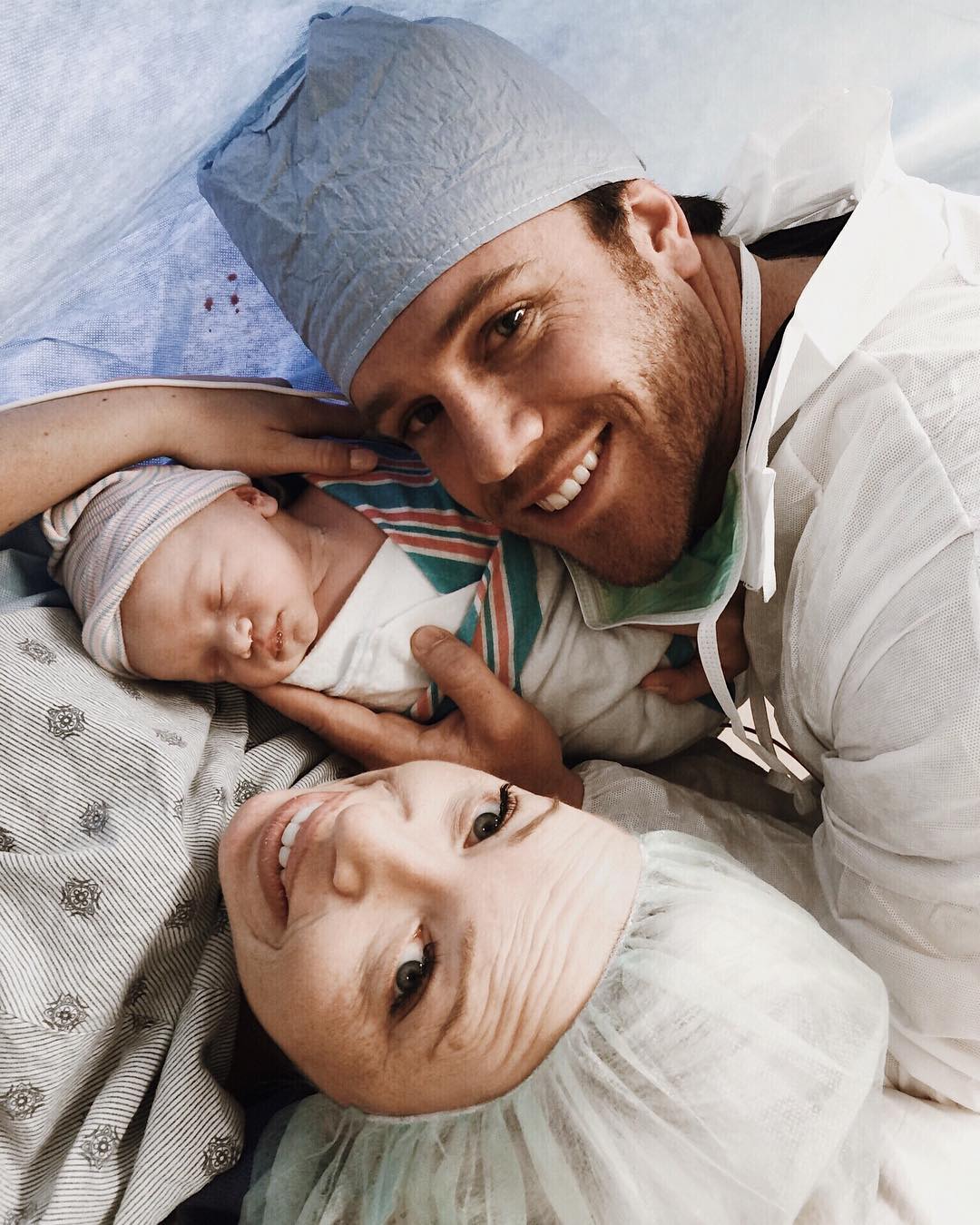 Charly was born in August 2017.
Daniel, Charlotte's father, was the one filming the video; Christy says the military dad also got choked up when he saw his newborn's cute face.
"He was as emotional as I was," Christy added "All this time that we're heartbroken that she wasn't able to hear us, all that pain magically faded away." The hearing aids were given by donors and at no cost to the Keane's.
Before this miraculous moment took place, it had been two sorrowful months for the young parents from Virginia Beach, Virginia. Christy says throughout her pregnancy, it all went well, she had no warning that her daughter may be deaf, so the news that Charlotte was born with hearing loss came as a total surprise to the couple. Neither Christy or Daniel had a history of such in their families. "It was shocking," Christy says. "I had never met a deaf person in my life until my daughter."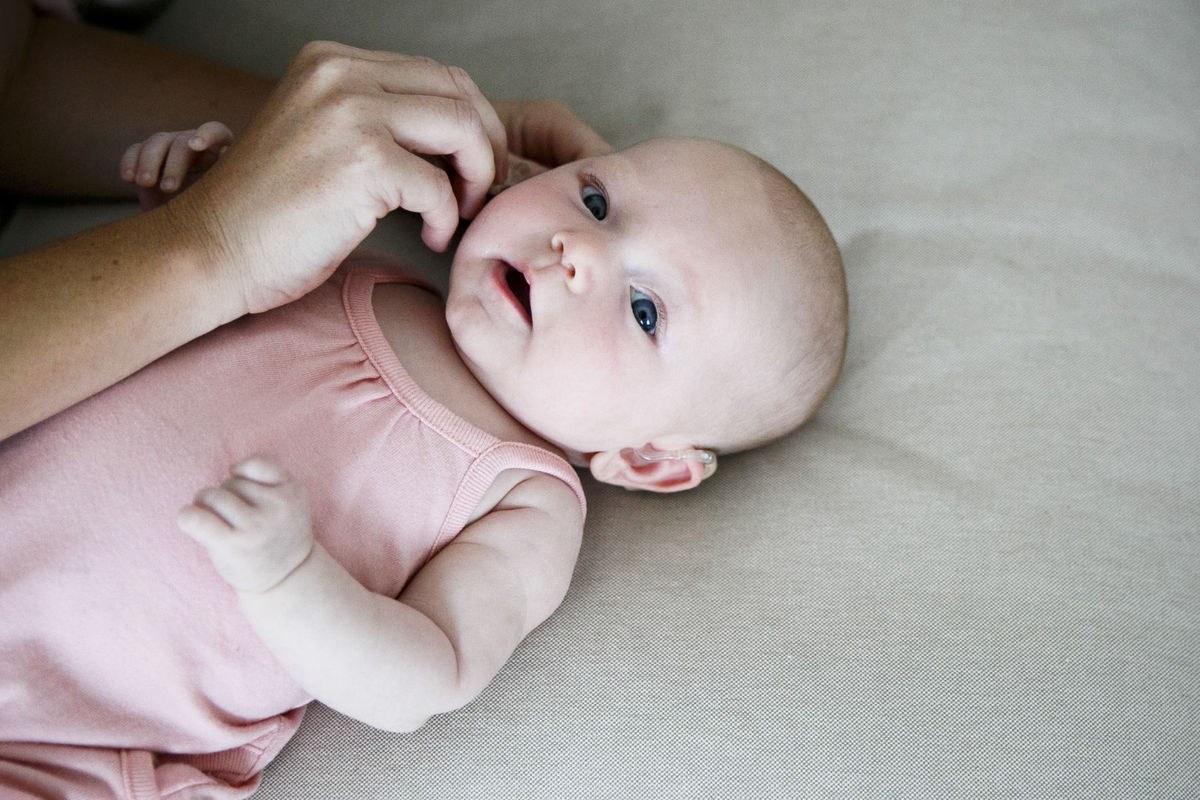 Charlotte wearing her hearing aid.
Within 24 hours when Charlotte was born, doctors initially dismissed the hearing loss as a fluid blockage. However, Christy says further testing concluded that Charlotte has a bilateral profound congenital hearing loss, which can occur in one of out every 1,000 to 2,000 births, according to The American Hearing Research Foundation.
Charlotte has a very profound hearing loss, and doctors said that it couldn't be cured. The family has enrolled in classes for American Sign Language to help them communicate better in the future, and plan to get Charlotte cochlear implants when she is closer to a year old. Cochlear implants are different than hearing aids in that they primarily do the work of the damaged parts. Hearing aids only amplify the sounds.
Baby Charly, mom Christy and older sister, Cameron.
In the meantime, Christy says her Charlotte is enjoying hearing her two-year-old sister Cameron's voice. Charlotte is currently working with a speech therapist to help her learn how to talk. As for her mom, Christy, she says the experience has been life-changing.
"She's taught me so much about connection, engagement, and perspective that I otherwise wouldn't have even had the possibility of knowing," she says. "Every day, we experience a miracle when we put her hearing aids in and get to see her smile."
"An infant's smile was the greatest promise that the world would go on, no matter how much the grown-ups mucked around it."
- Janice Maynard